In an exciting development for tech enthusiasts and computer users alike, Intel Corporation will launch its next 14th-generation Core desktop processors in mid-October.
Enthusiastic Citizen (ECSM), a Chinese media outlet known for its accurate leaks about CPU manufacturers' plans ahead of official announcements, has provided specific details regarding Intel's upcoming 14th Gen Core series launch.
According to ECSM, the launch is expected to take place between October 17 and October 23. These insights are reportedly based on undisclosed Intel roadmaps.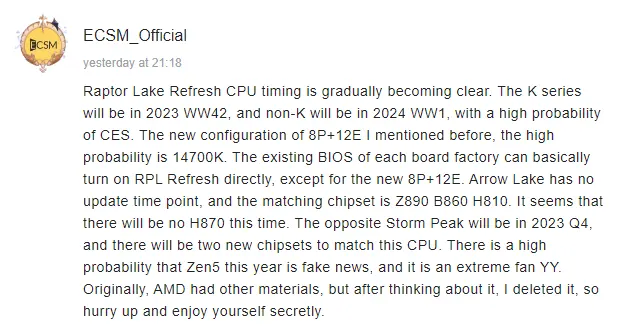 Credit: Intel Core 14th gen rumors Source: ECSM/Bilibili
ECSM expected that they would launch both Core-K and non-K models, a practice that Intel has adhered to for its desktop CPUs in recent years. The non-K models are anticipated to debut in the first week of 2024, suggesting a potential launch at the Consumer Electronics Show (CES).
ECSM also acknowledges the upcoming desktop processor codename called Arrow Lake, which promises to bring a truly unique update to the Intel desktop series.
Regarding platform compatibility, the 14th Gen Core series Refresh is expected to be compatible with all existing LGA1700 motherboards that have the latest BIOS, with one exception. The forthcoming Core i7-14700K processor is rumored to feature a new configuration of 8 Performance cores and 12 Efficient cores, which may require a new firmware update for compatibility.
Also, check out the guide on why 13th Gen processor is a good choice